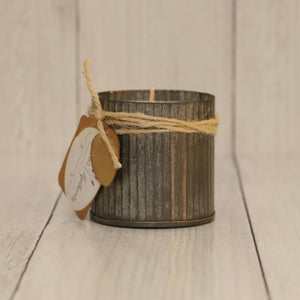 White Peach Tea
White Peach Tea was one of the first fragrances that I created as a blend of more than one scent. My son suggested this combination. The result was the velvety sweet scent of peach that mingles perfectly with white tea. 
Notes: Mandarin, Raspberry, Coconut, Peach, Plum, Violet, Vanilla, Sugar, Bergamot, Thyme, Jasmine, Ginger, White Tea and hrysanthemum.
A 12 ounce soy candle poured in a corrugated zinc container candle has a rustic farmhouse decor. It is tied with rustic twine and a handwritten scent tag, perfect touch for gift giving. Not to mention it can be re-used. With an approximate burn time of 55 to 60 hours.
Candle care: Trim wick to 1/4 inch after each burn. Allow enough time to burn the first time to create a melt pool thoughout the sides of each candle. Never burn candles longer than 3 hours (less for our 5 ounce about 2 hours).
---
We Also Recommend
---