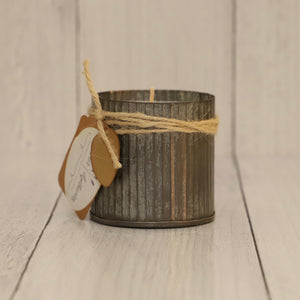 Lemon Lavender Vanilla
Lemon Lavender Vanilla is the perfect blend of citrus top note (lemon), floral middle note (lavender) and warm base note (vanilla). This fragrance blend is bright, floral and sweet. It's one of most popular candles and has been in our signature line from the beginning! Customers often say that it's reminiscent of a lemon cookie  
Notes: Lemon, Lemon Verbena, Sugar, Bergamot, French Lavender, Cedar, Buttercream, Cake, Vanilla and Bourbon.
A 12 ounce soy candle poured in a corrugated zinc container candle has a rustic farmhouse decor. It is tied with rustic twine and a handwritten scent tag, perfect touch for gift giving. Not to mention it can be re-used. With an approximate burn time of 55 to 60 hours.

Candle care: Trim wick to 1/4 inch after each burn. Allow enough time to burn the first time to create a melt pool thoughout the sides of each candle. Never burn candles longer than 3 hours (less for our 5 ounce about 2 hours).
---
We Also Recommend
---