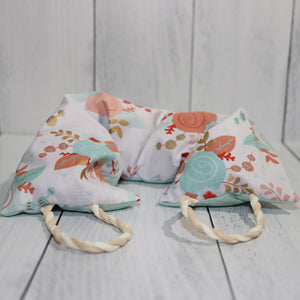 Peach & Mint Floral - Neck Warmer
You'll receive the most amazing heat therapy with hand sewn neck warmers. They are filled with organic Lavender buds and aromatic Jasmine rice. These warmers are great for a variety of aches and pains. Our neck warmers have handles to allow you to move it around as you like. 5" tall x 20" wide.
Instructions:
Place the bag in the microwave on a few paper napkins (to avoid contact with the warming plate). Heat on medium heat for 1-1/2 minutes (no longer). Enjoy the warmth of the bag on any area that requires therapeutic heat. The bag will remain warm for several minutes. Reheat as needed. Do not wash the bag because of the contents inside.
---
We Also Recommend
---