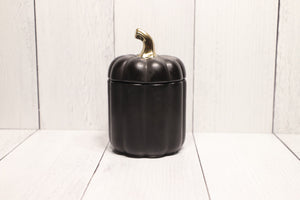 Pumpkin Candle Ceramic Jar - Matte Black
This whimsical Matte Black colored  jar is absolutely perfect for your Fall decor and smells delightful! It's filled with 16 ounces of Pumpkin goodness! It has a removable lid for burning and once the candle has solidified after lighting the lid can be placed back on. This is a very limited edition. 
This lovely pumpkin is available in the two scents listed below:
 Dark Rum & Pumpkin is not your average Pumpkin scent! It's a unique gourmand blend that highlights warm rum and pumpkin blended together for a upscale experience. This a familiar and warm scent and a perfect Autumn scent. 
Notes: Cinnamon, Pumpkin, Clove, Nutmeg, Cardamom, Cake, Rum, Butter and Tonka Bean.
Pumpkin Caramel is what you dream of in a Fall candle. It's comfy and cozy in a jar with nutty and buttery goodness! Pumpkin never smelled so good! Don't snooze on this gourmand treat.
Notes: Butter, Orange Peel, Ginger Spice, Allspice, Cinnamon, Pumpkin, Brown Sugar, Nutmeg, Caramel, Maple, Pecan, Vanilla, Clove, Molasses.
Pumpkin Spice is a must have gourmand fragrance for Fall and Winter, It's a combination of spices and sweet goodness. This scent will usher in all the warm and cozy feels! It's not Fall until you've lit your Pumpkin Spice candle! Notes: Clove, Cinnamon, Nutmeg, Pumpkin, Buttercream, Smoke and Vanilla
Pumpkin Chai is a sophisticated fall fragrance with an invigorating dose of spice. This familiari scent will take you to a crisp autumn day with a dusting of cardamom and apple swirled into mid notes of pumpkin and brown sugar. A spice heavy base with rich notes of vanilla rounds out the scent. Notes: Cardamom, Apple, Pumpkin, Brown Sugar, Black Pepper, Vanilla, Clove, Cinnamon, Cream, Praline and Nutmeg 
---
We Also Recommend
---