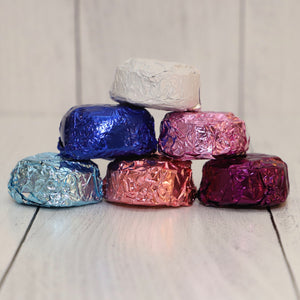 Shower Steamer 6-Pack
Create a spa like experience in your own shower. Our handmade shower steamers release the most aromatic scents during your shower creating a luxurious delight.
Our 6 pack includes one of each fragrance. Each steamer has a lovely Lotus Flower embedded into the top portion. Each shower steamer is approximately 1.5 ounces and is 2" wide and 1" high. Our shower steamers are white in color. They are wrapped in foil and shipped in a wax bag.
The 6-Pack which includes one of each of the listed fragrances below: 

EUCALYPTUS MINT (Eucalyptus, Spearmint, Peppermint and an extra dose of mint)

LAVENDER EUCALYPTUS (Fresh Lavender & Spearmint, Eucalyptus, Peppermint & Ginger)

GRAPEFRUIT LEMONGRASS (Bright Citrus Grapefruit, Lemon Verbena, Lemongrass & Mint)

CLARITY (Camphor,Eucalyptus, Menthol, Rosemary & Mint)
RESCUE (Eucalyptus, Orange, Rosemary & Peppermint)
RELAX (Blue Lavender, Palmarosa, Rose, Floral, Sweet, Herbal and Citrus Lemon)


DIRECTIONS: Wait to place your shower steamer into your shower until you actually step in. Place your steamer in a corner on the floor of your shower that allows contact with water. The water will activate the wonderful aromatherapy of the essential and fragrance oils. Take deep breaths in and enjoy the aromatherapy experience! DO NOT PLACE YOUR STEAMER IN DIRECT CONTACT WITH THE SHOWER STREAM (doing so will cause your steamer to dissipate too quickly). One shower steamer will last for an average shower.

We use Sodium Bicarbonate, White Kaolin Clay, Citric Acid, Polysorbate 80, 91% alcohol and essential and fragrance oils in making our shower steamers.
---
We Also Recommend
---