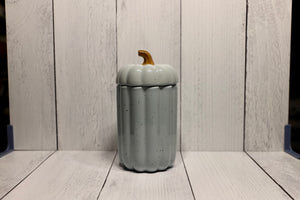 Tall Candle Ceramic Jar - Blue
This whimsical Blue colored speckled jar is absolutely perfect for your Fall decor and smells delightful! It's filled with 24 ounces of Pumpkin goodness and it is 7 Inches tall! It has a removable lid for burning and once the candle has solidified after lighting the lid can be placed back on. This is a very limited edition. Available in four fragrances: (select from drop down menu)  
-Pumpkin Spice is a must have gourmand fragrance for Fall and Winter, It's a combination of spices and sweet goodness. This scent will usher in all the warm and cozy feels! It's not Fall until you've lit your Pumpkin Spice candle! Notes: Clove, Cinnamon, Nutmeg, Pumpkin, Buttercream, Smoke and Vanilla
-Pumpkin Caramel is what you dream of in a Fall candle. It's comfy and cozy in a jar with nutty and buttery goodness! Pumpkin never smelled so good! Don't snooze on this gourmand treat. Notes: Butter, Orange Peel, Ginger Spice, Allspice, Cinnamon, Pumpkin, Brown Sugar, Nutmeg, Caramel, Maple, Pecan, Vanilla, Clove, Molasses.
-Pumpkin Chai is a sophisticated fall fragrance with an invigorating dose of spice. This familiar scent will take you to a crisp autumn day with a dusting of cardamom and apple swirled into mid notes of pumpkin and brown sugar. A spice heavy base with rich notes of vanilla rounds out the scent. Notes: Cardamom, Apple, Pumpkin, Brown Sugar, Black Pepper, Vanilla, Clove, Cinnamon, Cream, Praline and Nutmeg 
- Pumpkin Spice Buttercream fragrance will have you reaching for your coziest sweater and daydreaming about pumpkin spice season. This sweet, gourmand scent inspires fall feelings with notes of pumpkin and warm brown sugar. A dash of cinnamon and clove middle notes are whipped into a decadent base of butter, cream, vanilla, and nutmeg. Notes: Pumpkin, Brown Sugar, Cinnamon, Clove, Butter, Cream, Vanilla and  Nutmeg
Caramel Apple an iconic fall festival favorite is a sweet apple treat. A strong and true reminder of a classic Fall scent. Our Caramel Apple fragrance combines notes of apple with sweet caramel and apple cider. Tempting base notes of caramelized sugar and spice will leave you looking for the real thing. This is such a yummy scent! 
---
We Also Recommend
---