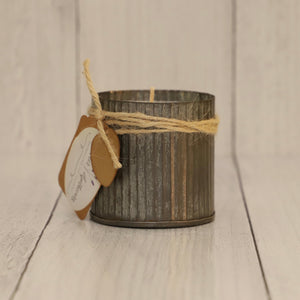 Waterfall
Waterfall is the epitome of a clean, oceanic fragrance. This is an uplifting and refreshing scent. Immerse yourself in the aromas of waves crashing onto the rocks and a storm brewing from afar. You'll smell the sea water and the sand along with some woodiness and greens. This ozonic scent will fill your room with a refreshing, yet relaxing atmosphere. 
Notes: Ozone, Citrus, Sea Salt, Jasmine, Violet, Cedar, Powder and Light Musk.
A 12 ounce soy candle poured in a corrugated zinc container candle has a rustic farmhouse decor. It is tied with rustic twine and a handwritten scent tag, perfect touch for gift giving. Not to mention it can be re-used. With an approximate burn time of 55 to 60 hours.
Candle care: Trim wick to 1/4 inch after each burn. Allow enough time to burn the first time to create a melt pool thoughout the sides of each candle. Never burn candles longer than 3 hours (less for our 5 ounce about 2 hours).
---
We Also Recommend
---