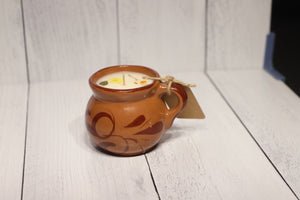 Light & Dark Brown Tácita
This stunning 8 ounce Mexican handcrafted tácita is filled with Canela Y Vainilla  (Cinnamon and Vanilla). The contrasting light and brown colors are representative of the Mexican artisanal culture and so beautiful to display in your home. We carry a matching cazuela as well  
Cinnamon and Vanilla combines the full bodied scent of spicy cinnamon with the sweet and creamy accords of vanilla. Both cinnamon and vanilla are used in baked good and gourmand desserts. This mouthwatering fragrance evokes the excellent of cozy and reminds memories. 
Notes:
Cinnamon, Vanilla, Cloves and Cream. 
This limited edition light and dark brown patterned artisanal Mexican handcrafted tacita is simply full of culture. The workmanship is simply gorgeous. It is 8 ounces and the burn time is approximately 45 to 50 hours. We've added some dried pressed florals to add to the beauty of this vessel. Each tacita will vary in decor and the size and shape can vary slightly. 
---
We Also Recommend
---